Strawberry E-Liquid by Club Juice 50/50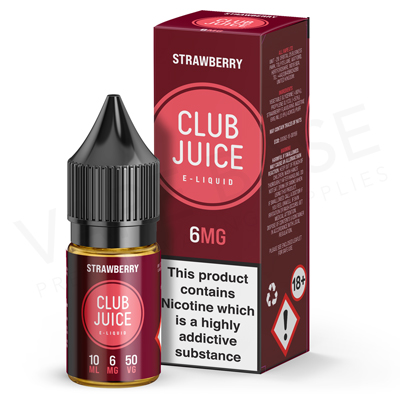 Bottle Size:

10ml

Brand:

Club Juice

Flavour Group:

Berry Fruit

Mix:

50% VG

Nicotine Strength:

0mg , 3mg , 6mg , 12mg , 18mg

Nicotine Type:

Freebase Nicotine , Nicotine Free (0mg)

Product Type:

TPD Eliquid
Strawberry e-liquid by Club Juice 50/50 brings a fruity sweetness to your vape with the familiar flavour of strawberries for a juicy taste throughout.
Strawberry is a 50/50 e-liquid that's ideal for MTL (Mouth to Lung) vaping and so is perfect for a wide range of pod kits and vape starter kits. It'll also produce less cloud and a full flavour for discreet vaping.
As an e-liquid that's part of the Club Juice range, each 10ml bottle of juice comes in 0mg, 3mg, 6mg, 12mg and 18mg, meaning customers can find the ideal nicotine amount for their preferred vape.
Please Note: Club Juice has been rebranded, some bottles you receive in your delivery may have new packaging. Rest assured all e-liquids are still made to the same high-quality standards.
Alternate Choices