Black Aniseed E-Liquid by Club Juice 50/50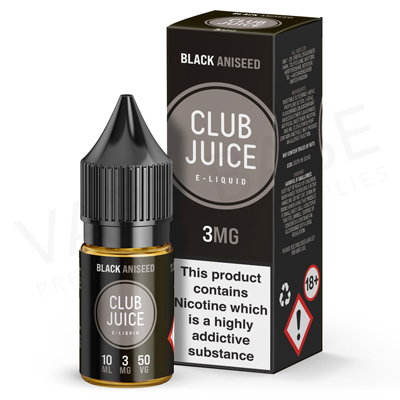 Bottle Size:

10ml

Brand:

Club Juice

Flavour Group:

Berry Fruit

Mix:

50% VG

Nicotine Strength:

3mg , 6mg , 12mg , 18mg

Nicotine Type:

Freebase Nicotine

Product Type:

TPD Eliquid
Black Aniseed e-liquid by Club Juice is a blend that creates a fruity taste with floral notes. From your first vape, you'll taste sweet and juicy blackcurrant, that's fused with an intense aniseed note.
Part of the Club Juice range, this is a 50% VG e-liquid that will produce a discreet amount of vapour. For best results, this e-liquid should be paired with mouth to lung vape kits such as a pod kit or a starter kit.
To match the range of flavours available, you can find 0mg, 3mg, 6mg, 12mg and 18mg nicotine strengths. Allowing customers to find a nicotine strength that matches their taste.
Please Note: Club Juice has been rebranded, some bottles you receive in your delivery may have new packaging. Rest assured all e-liquids are still made to the same high-quality standards.
Alternate Choices