Summer Fruits Nic Salt E-Liquid by Pukka Juice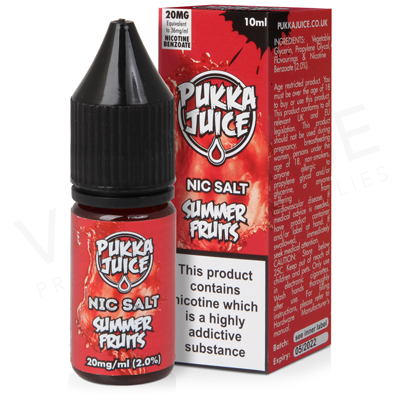 eLiquid Bottle Size:

10ml

eLiquid Brand:

Pukka Juice

Eliquid Flavour Group:

Berry Fruit , Other Fruit

eLiquid Mix:

50% VG

Eliquid Nicotine Strength:

10mg , 20mg

Eliquid Nicotine Type:

Salt Nicotine

Product Type:

TPD Eliquid
Summer Fruits salt nicotine e-liquid by Pukka Juice is a simple blend of fruits with a sharp finish. The sweet and juicy taste of classic mixed berries is present on inhale, the sweetness is undercut notes of lime.
Part of the Pukka Juice salt nicotine range, this blend is available in either a 10mg or 20mg strength. The salt nicotine used guarantees a smooth throat hit when vaped.
Featuring a 50% VG concentration this e-liquid offers discreet vapour production and a clear taste, it should be paired with a mouth to lung vape kit.
Alternate Choices