Blaze Nic Salt E-Liquid by Pukka Juice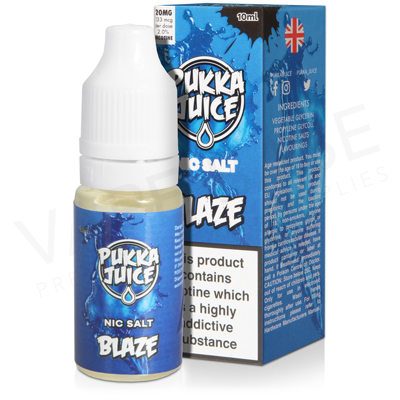 eLiquid Bottle Size:

10ml

eLiquid Brand:

Pukka Juice

Eliquid Flavour Group:

Berry Fruit , Menthol & Mint

eLiquid Mix:

50% VG

Eliquid Nicotine Strength:

10mg , 20mg

Eliquid Nicotine Type:

Salt Nicotine

Product Type:

TPD Eliquid
Blaze salt nicotine e-liquid by Pukka Juice balances forest fruits and gives them a cool twist. A sweet combination of blueberry and raspberry brings with it a tangy note, complemented by a menthol layer.
Part of the Pukka Juice salt nicotine range, this blend is available in either a 10mg or 20mg strength. The salt nicotine used guarantees a smooth throat hit when vaped.
Featuring a 50% VG concentration this e-liquid offers discreet vapour production and a clear taste, it should be paired with a mouth to lung vape kit.
Alternate Choices