Apple Nutter E-Liquid by 50 Large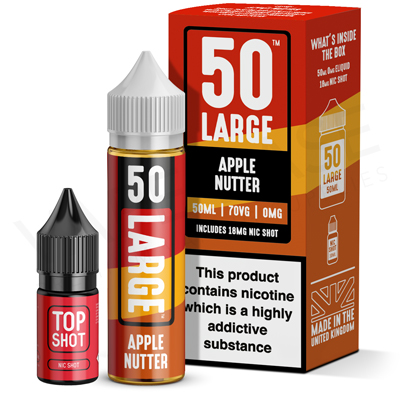 Bottle Size:

50ml + 10ml

Brand:

Large Juice

Flavour Group:

Chocolates & Sweets , Other Fruit , Spices, Nuts & Herbs

Mix:

70% VG

Nicotine Strength:

0mg

Nicotine Type:

Freebase Nicotine

Product Type:

Shortfills

RRP

£9.99
Apple Nutter shortfill e-liquid by 50 Large is a rich blend with a pronounced fruity note throughout. The bold taste of red apple and sweet cinnamon is fused with caramel and treated to a hint of vanilla and pecan.
50 Large e-liquids are made by Large Juice, each box contains a 0mg, 50ml shortfill e-liquid and an 18mg, 10ml Top Shot nicotine booster. Combining the two allows you to easily create 60ml of 3mg e-liquid.
As this is a 70% VG e-liquid, we recommend pairing it with sub ohm tanks and kits for increased cloud production.
Alternate Choices