Vanilla Cola Chaos Nic Salt E-Liquid by Strapped Soda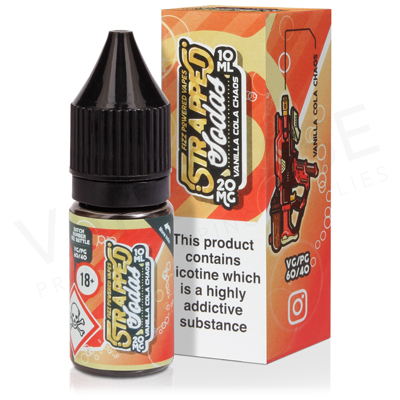 Bottle Size:

10ml

Brand:

Strapped

Flavour Group:

Drinks , Spices, Nuts & Herbs

Mix:

60% VG

Nicotine Strength:

10mg , 20mg

Nicotine Type:

Salt Nicotine

Product Type:

TPD Eliquid
Vanilla Cola Chaos nic salt e-liquid by Strapped Soda Salts recreates the flavour of a classic soda. The sweet and fizzy taste of cola makes up the body of the blend, softened by creamy notes of vanilla.
Strapped Soda nic salt e-liquids are available in either a 10mg or 20mg strength, the salt nicotine delivers a smoother vape all-round.
Featuring a 60% VG concentration, this blend is ideal for MTL vape kits, it creates a smaller amount of vapour and a clear flavour.
Alternate Choices