Trap Queen High VG E-Liquid by Nasty Juice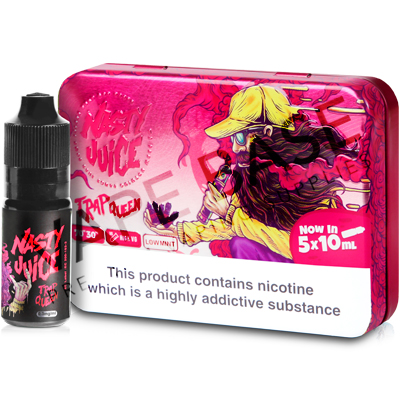 eLiquid Bottle Size:

5 x 10ml

eLiquid Brand:

Nasty Juice

Eliquid Flavour Group:

Berry Fruit

eLiquid Mix:

70% VG

Eliquid Nicotine Strength:

3mg , 6mg

Eliquid Nicotine Type:

Freebase Nicotine

Product Type:

TPD Eliquid
Trap Queen e-liquid by Nasty Juice Yummy Fruity is a simple fruit blend that been mixed as an all-day vape. A strawberry flavour is consistent throughout, that delivers a sweet and juicy taste.
This Yummy Fruity e-liquid is available in a 70% VG concentration, this means it will work best with a sub ohm vape kit. When used with such a kit it will produce large amounts of vapour.
Available in a 5 x 10ml multipack and packaged in a stylish tin, these e-liquids are available in 0mg, 3mg or 6mg nicotine strength. Multipacks like this are ideal for customers who are looking for larger amounts of e-liquid but don't want to use shortfills.
Alternate Choices