Tahiti Nic Salt E-Liquid by Doozy Vape Co.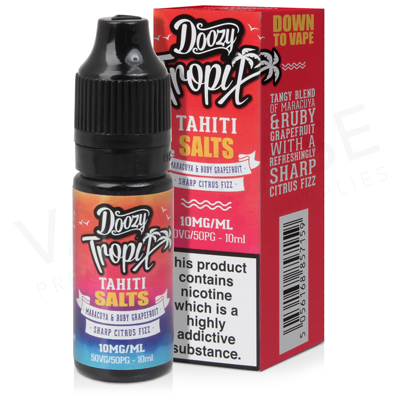 eLiquid Bottle Size:

10ml

eLiquid Brand:

Doozy Vape Co

Eliquid Flavour Group:

Other Fruit

eLiquid Mix:

50% VG

Eliquid Nicotine Strength:

10mg , 20mg

Eliquid Nicotine Type:

Salt Nicotine

Product Type:

TPD Eliquid
Tahiti salt nicotine e-liquid by Doozy Tropix is a tropical fruit blend with a distinct taste. The tartness of passionfruit and grapefruit is consistent throughout, with a fizzy citrus exhale to finish.
This salt nic e-liquid is available in 10ml bottles with nicotine strengths of 10mg and 20mg. Consisting of a 50% VG ratio, this e-liquid is recommended for use with pod devices and starter kits.
Alternate Choices