Smok Infinix Vape Starter Kit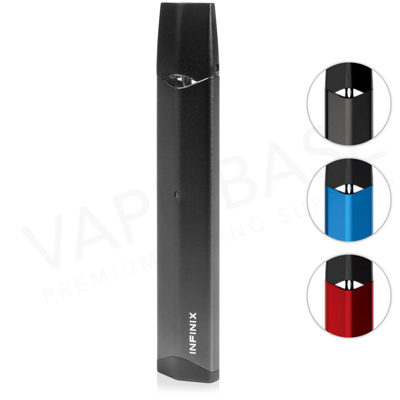 Hardware Brand:

Smok

Hardware Product Type:

Open Pod Kit

Product Type:

Pods (Open)

Vape Kit Battery Type:

Built In Battery

Vape Kit Eliquid Type:

50VG / 50PG (Universal) , High PG (Mouth-To-Lung) , Refillable Pods

Vape Kit Features:

Fixed Wattage , Inhale Activated

Vape Kit Type:

Mouth to Lung kit , Pen Style , POD Style

Vape Kit User Type:

Beginner Vaper , First Time Switcher

RRP

£17.49
The Smok Infinix is a pod vape kit that's small and functional. Designed to look like a classic pen vape, this refillable device is simple to use and maintain - making it ideal for new users and experienced vapers looking for a reliable back up device. The Infinix is powered by a 250mAh built in battery and uses 2ml refillable pods.
A clean design promotes simplicity, the Smok Infinix features no buttons, rather it is inhale activated. The inbuilt air-driven system allows the user to inhale on the mouthpiece and this in turn will begin vapour production.
Each Smok refillable pod is fitted with a 1.2 Ohm coil. These coils provide a mouth to lung inhale, with a draw that is similar to that of a cigarette. While these pods can be refilled with your choice of eliquid, we recommend a higher PG blend of 40% PG or higher.
Alternate Choices