Smok Thallo S Kit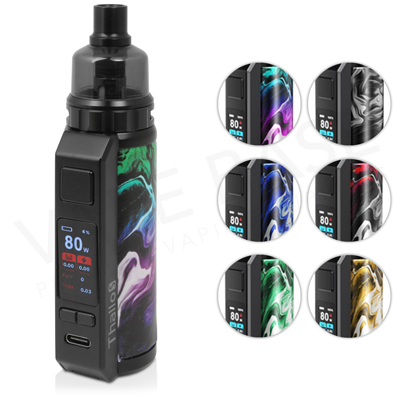 Hardware Brand:

Smok

Hardware Product Type:

Open Pod Kit

Product Type:

Open Hardware

Vape Kit Battery Type:

18650 Batteries , 21700 Batteries

Vape Kit Eliquid Type:

High PG (Mouth-To-Lung) , High VG (Sub-Ohm) , Refillable Pods

Vape Kit Features:

Variable Wattage

Vape Kit Type:

POD Style

Vape Kit User Type:

Advanced Vaper , Intermediate Vaper
The Smok Thallo S pod kit combines a high power output and a large battery for an authentic sub ohm experience. Capable of a 80W max output and powered by either a 18650 or 21700 battery this kit can be used for both MTL and DTL vaping. A good recommendation for either new or experienced vapers, it remains simple to use and is reliable thanks to the built-in IQ-S chipset.
The option of changing the wattage output means that only can the Thallo S be paired with multiple coils (including the two RPM 2 coils that arrive as part of the kit), but it also means that it's easy to experiment to find a level of vapour production that suits the need of the individual. The IQ-S chipset not only allows for different power levels, but it also ensures a fast ramp-up and protects against issues such as overheating and overcharging.
The specially designed Thallo RPM 2 pods can be paired with the entire RPM 2 coil range. The 0.16 Ohm RPM 2 coil included will create a larger amount of vapour for DTL vaping, working best with a high VG e-liquid. Delivering a stealthier vape, the 0.6 Ohm coil produces less vapour and will work best with high PG e-liquid. To further increase compatibility, a Thallo RPM pod is also available, allowing this kit to be paired with the original RPM coils.
Alternate Choices