Dinner Lady

Dinner Lady
With an ethos centred around developing the best flavours using only the purest ingredients, it's no wonder that both beginners and seasoned vapers are flocking to get their vaping lunch from the Dinner Lady.
Winner of the Best Stand at the 2016 Vaper Expo in Birmingham, the Dinner Ladies have certainly made a swift impact on the eliquid market with their smooth flavour blends.
Dinner Lady 11 11 range focuses on tobacco fused flavours of high quality. Available in 10ml bottles with 6mg-18mg nicotine strength with a high PG ratio, suited to starter kits and pod devices.
The Dinner Lady 10mls range comes in high VG format in nicotine strengths of 3mg and 6mg, ideal for starter kits and pod devices.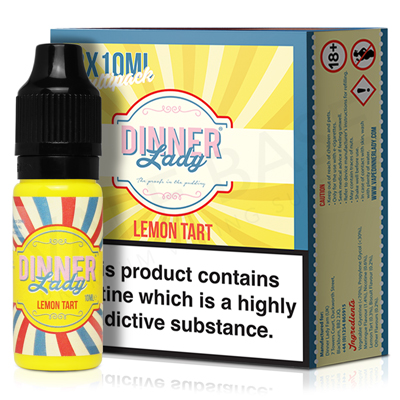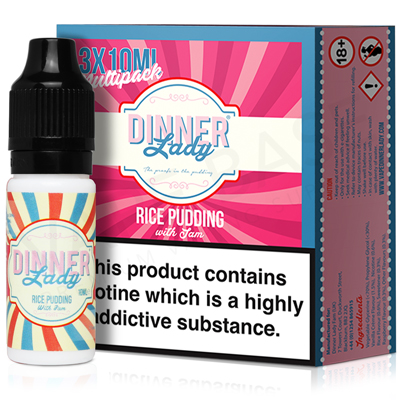 The Dinner Lady 50/50 range are specifically designed for starter kits and pod devices with a range of dessert and pastry flavours, available in nicotine strengths of 6mg-18mg.
The Dinner Lady range in 50ml shortfill format features fruity pastry and dessert blends in high VG consistencies, suited to sub ohm vaping, with space for a 10ml nicotine shot.
The UK-based, Dinner Lady have added the Fruits series to their extensive collection, with eliquids focusing on layered fruit blends with a sweet flavour. Available as 50ml shortfills with space for a 10ml nicotine shot, this range features a 70% VG ratio, suited to sub ohm vaping.
The Dinner Lady Salts range is a series of dessert and confectionery blends with an overall sweet taste. Available in 10ml bottles with 20mg nicotine strength, salt nicotine provides a smoother throat hit compared to regular freebase nicotine. With a 50% VG ratio, these eliquids are ideal for pod devices and starter kits.
Tuck Shop eliquids are mixed and bottled in the UK, by Dinner Lady. Made up a range of candy flavours this collection is ideal for the vaper with a sweet tooth. Popular blends including bubblegum, lemon sherbet and sour watermelon are available in 50ml shortfills.
Each shortfill has room for a 10ml Nicotine Booster Shot of your choice. The 70% VG blend helps to produce big clouds and flavour and these eliquids work best with sub ohm devices and kits.
Out of the cafeteria and down to the beach! Summer Holidays is the latest series of eJuices from Dinner Lady eLiquids, this time taking the nostalgia of a beach summer holiday for inspiration.
With some flavours featuring an 'icy' coolata element, intended to invoke an 'ice lolly' like sensation, the Summer Holidays refill range from Dinner Lady is an ideal accompaniment to sunshine and deck chairs, thematically of course.
The flavours feature mixes such as Cola and Lemon, Citrus Lychee, Strawberry Lemonade, Mango Honey, and Blackcurrant Orange.
Summer Holiday's eLiquid is available either as a 3x10ml multipack in 0, 3 or 6mg nicotine, or as a 50ml short fill 0mg with an 18mg Nic Shot which, when combined give you 60ml at 3mg nicotine.
The Summer Holidays 10ml range by Dinner Lady are classic summer flavours including tropical fruit and soda blends in 50% PG formats, designed for starter kits and pod devices.
The Summer Holidays shortfill range by Dinner Lady combines popular summer flavours, with space for a 10ml nicotine shot featuring high VG ratios perfect for sub ohm vaping.