Crystal Mist Nic Salt E-Liquid by Double Drip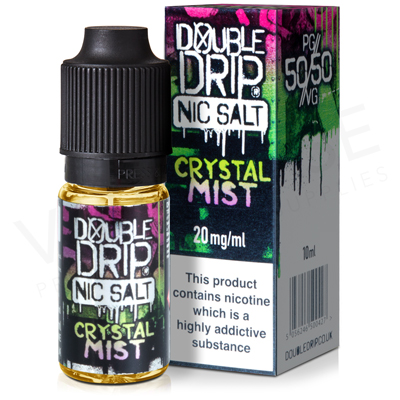 Bottle Size:

10ml

Brand:

Double Drip

Flavour Group:

Berry Fruit , Menthol & Mint

Mix:

50% VG

Nicotine Strength:

10mg , 20mg

Nicotine Type:

Salt Nicotine

Product Type:

TPD Eliquid
Crystal Mist salt nicotine e-liquid by Double Drip features a sweet fusion of fruits and menthol. Notes of blue raspberry and black cherry are complemented by an icy exhale.
Featuring a 20mg nicotine concentration, users will experience a smooth throat hit thanks to the salt nicotine that it uses.
Recommended for use with mouth to lung vape kits, such as pod kits and starter kits, this is a 50% VG e-liquid.
Alternate Choices