ASAP Grape E-Liquid by Nasty Juice 50/50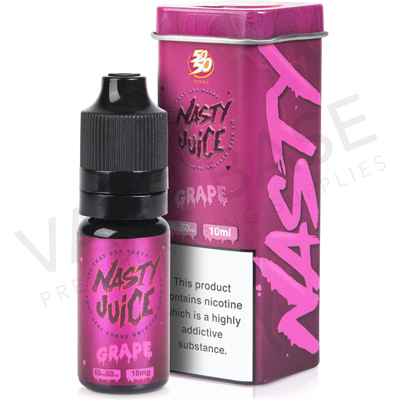 eLiquid Bottle Size:

10ml

eLiquid Brand:

Nasty Juice

Eliquid Flavour Group:

Berry Fruit , Drinks , Other Fruit

eLiquid Mix:

50% VG

Eliquid Nicotine Strength:

6mg , 12mg , 18mg

Eliquid Nicotine Type:

Freebase Nicotine

Product Type:

TPD Eliquid
ASAP Grape e-liquid by Nasty Juice is a fruity blend with cool notes. The juicy taste of black grapes is sweetened further by mixed berries, the minty flavour on exhale creates an icy finish.
Part of the Nasty Juice 50/50 range, this is a 50% VG e-liquid that will create a discreet amount of vapour, working best with mouth to lung vape kits - like a pod or starter kit.
To suit the VG concentration, you can find ASAP Grape in 6mg, 12mg and 18mg nicotine strengths - so your customers can match flavour with their ideal nicotine level.
Alternate Choices