Uwell Kalmia Pod Vape Kit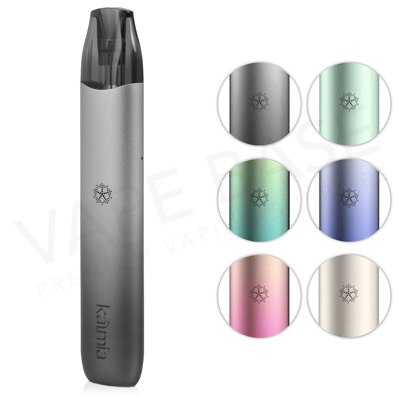 Coil Types:

Mesh Coils

Hardware Brand:

Uwell

Hardware Product Type:

Open Pod Kit

Product Type:

Open Hardware

Vape Kit Battery Type:

Built In Battery

Vape Kit Features:

Inhale Activated

Vape Kit Type:

POD Style

Vape Kit User Type:

Beginner Vaper , First Time Switcher

Vape Pod Fill Type:

Side Fill

Vape Pod Resistance:

1.2 ohm

Vape Pods Type:

Refillable Pods
The Uwell Kalmia pod kit has a slim and portable build that means it can be carried around anywhere. There's an integrated 400mAh battery, which means there is no need to buy any additional parts. Plus, the 1.6ml pod that's included in the box features a built-in, 1.2 Ohm coil, which means the Kalmia pod kit is supports an MTL (Mouth To Lung) inhale.
Thanks to inhale activation technology, using the Kalmia kit feels seamless. Simply inhaling on the mouthpiece is all that is needed to activate this kit, which means it doesn't need to feature awkward buttons or complicated menus. When activated, it will create a discreet amount of vapour with a cigarette-like feel for an authentic MTL vape.
To refill the Kalmia pod, simply unplug the silicone stopper that is located on the side to reveal the eliquid inlet. To get the best results from this kit, we would recommend using an e-liquid with a 50/50 or high PG concentration. The coils in each of the pods have a mesh design, which means that e-liquid is heated up faster and delivers a fuller flavour.
Alternate Choices