Liquid State

Liquid State
Handcrafted in the USA, Liquid State eliquids are committed to high quality and responsible manufacturing of their ejuices. They are a Max VG line, and feature some unique and quintessential flavour blends inspired from individual US states.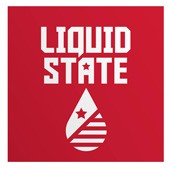 Liquid State's eJuice range is inspired by idiosyncracies from different US states and the special things that make them unique and memorable.
Creators of Apple Butter, their most decorated flavour and exceptionally popular amongst dessert lovers, now the whole range is available in short fill form. All flavours in the range come in a 60ml bottle, filled to 50ml with 0mg E-Liquid. If you wish to vape with nicotine, simply mix in a 10ml nic shot to get your desired nicotine strength.
Product Categories