Innokin Jem Pen Kit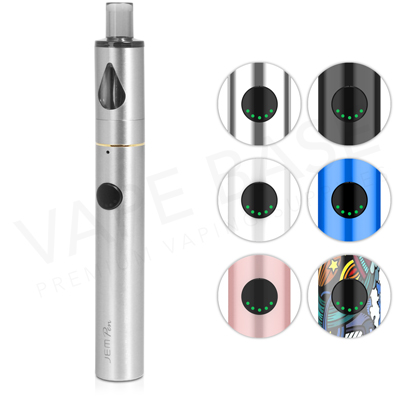 Hardware Brand:

Innokin

Hardware Product Type:

Vaping Kit

Product Type:

Open Hardware

Vape Kit Battery Type:

Built In Battery

Vape Kit Eliquid Type:

50VG / 50PG (Universal) , High PG (Mouth-To-Lung)

Vape Kit Features:

Button Activated , Fixed Wattage , Glass Tank , High Battery Capacity

Vape Kit Type:

Mouth to Lung kit , Pen Style

Vape Kit User Type:

Beginner Vaper , First Time Switcher
The Innokin Jem pen vape kit is a lightweight and simple vape kit - ideal for new vapers and first-time switchers. Powered by a built-in 1000mAh battery, this kit can hold up to 2ml of e-liquid and is refillable. Designed for mouth to lung vaping, the Jem produces a small amount of vapour.
Set up is kept to a minimum. The Jem vape kit has one button, that is used to activate the device and lock it when not in use, making it safer to travel with. The built-in battery will offer a full day's vaping between charges, this paired with the compact design makes it ideal for using on the go.
The Innokin Jem 2ml vape tank has been designed for mouth to lung vaping. Emulating the action of smoking a cigarette it produces a small amount of vapour, thanks to the 1.6 Ohm and 2.0 Ohm Jem replaceable coils. The top filling capabilities mean users will not have to disassemble the kit to refill it.
Overall, the Jem works very well as an introduction to vaping, or as a portable vape kit that can be used every day.
Alternate Choices