Geek Vape Mero AIO Tank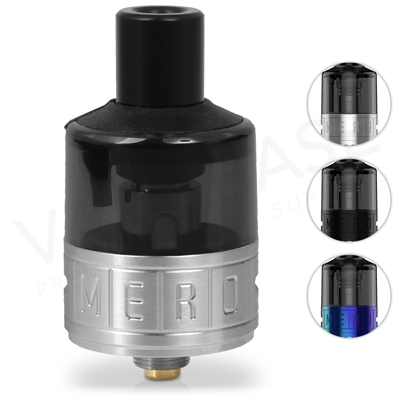 Hardware Brand:

Geek Vape

Hardware Product Type:

Vape Tank

Product Type:

Open Hardware

Tank Type:

50VG / 50PG (Universal) , High PG (70%+ PG) , High VG (70%+ VG)

Vape Tank Features:

510 connection

vape Tank User Type:

Advanced Vaper , Beginner Vaper , Intermediate Vaper

Vape Tanks:

Direct To Lung , Mouth To Lung
The GeekVape Mero vape tank features a similar design to the Mero cartridge, unlike the cartridge this tank features a classic 510 connection which means it can be paired with both the Mero as well as a range of other kits. Capable of holding up to 2ml of e-liquid, this compact tank is ideal for both MTL and DTL vaping which means it can be used with a large range of vape mods.
When it comes to versatility, the Mero vape tank offers a wider degree of customisability as it can be paired with the entire GeekVape Boost coil series. This means vapers can switch between different styles by switching coil. To further complement style changes, the bottom adjustable airflow can be opened or closed to deliver either a looser or tighter inhale, as well as impacting vapour production.
Compatible with most e-liquids, VG/PG ratio of the user's selected e-liquid should be decided based on which coil has been installed.
Alternate Choices