Fresh Squeeze E-Liquid by Element 100ml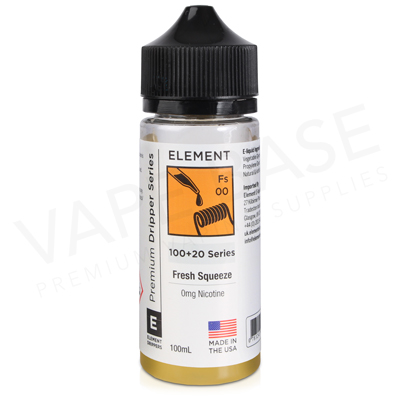 eLiquid Bottle Size:

100ml

eLiquid Brand:

Element

Eliquid Flavour Group:

Other Fruit

eLiquid Mix:

80% VG

Eliquid Nicotine Strength:

0mg

Eliquid Nicotine Type:

Nicotine Free (0mg)

Product Type:

Shortfills

RRP

£17.99
Fresh Squeeze 100ml shortfill eLiquid by Element is a distinctive fruit flavour in an 80% VG blend.
A ripe tasting orange flavour is present on both inhale and exhale with sharp citrus notes. The 80% VG mix ratio allows for increased vapour production, working best with sub ohm kits.
This shortfill has room for two 10ml nicotine booster shots. Adding two 18mg 10ml nic shots will create 120ml of 3mg ejuice.
Alternate Choices