Drip & Dab

Drip & Dab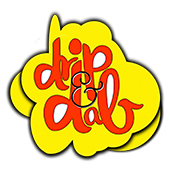 Drip & Dab eliquid are a UK manufactured range with a focus on Sherbet! All four flavours in the range feature some sherbet goodness, coupled with the likes of Cola, Lemon, Orange & Raspberry!
Drip & Dab comes in short fill form, so 50ml of 0mg eliquid in a 60ml bottle, leaving room for a nic shot of your choice to be added, fuss free.
All flavours in the range are a 70% VG mix, so perfect for those with a sub ohm set up but also compatible with mouth to lung style vape kits.
Product Categories