Carnival E-Liquid by Wick Liquor Salt Nicotine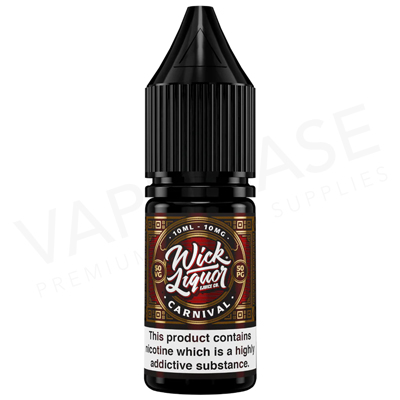 eLiquid Bottle Size:

10ml

eLiquid Brand:

Wick Liquor

eLiquid Mix:

50% VG

Nicotine Strength:

10mg , 20mg

Product Type:

TPD Eliquid
Carnival e-liquid by Wick Liquor Salt Nicotine is a rich dessert blend. A combination of cholo sugar skull cake and doughnuts creates a sweet taste, mixed with creamy notes of vanilla.
Thanks to the salt nicotine in each blend, this e-liquid creates a smooth throat hit that complements the flavour when vaped. This blend features a 20mg nicotine concentration.
Available in a 50% VG concentration, this e-liquid works best with mouth to lung vape kits, producing a discreet amount of vapour. The qualities of salt nicotine and the VG ratio makes this e-liquid and the range a good recommendation for new vapers.
Alternate Choices