Blueberry Elf Bar Disposable Vape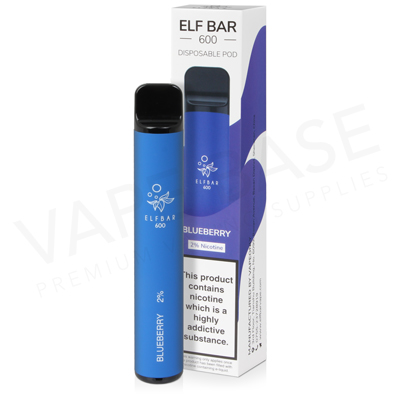 Bottle Size:

2ml Disposable

Flavour Group:

Berry Fruit

Nicotine Strength:

20mg

Nicotine Type:

Salt Nicotine

Hardware Brand:

Elf Bar

Hardware Product Type:

Disposable Vape Device

Product Type:

Disposable Vape Device
The Blueberry Elf Bar disposable vape is a zero-maintenance option that's a good recommendation for new vapers, or experienced vapers looking for something more pocket-friendly. Each device arrives prefilled with 2ml of e-liquid and can outlast 20 cigarettes as it delivers up to 600 puffs. Allowing for a vape that feels closer to a cigarette, the Elf Bar creates a small amount of vapour for an MTL inhale.
There's no refilling, recharging or messy coil changes to contend with, instead, when empty the Elf can be replaced with another. It's also very easy to use, there are no buttons or menu systems on this disposable device. Inhale activation allows for a vape that will feel immediately familiar and can help make the switch to vaping a little simpler.
The Elf Bars are available in a wide selection of flavours, with plenty of fruit, menthol, soda, candy and dessert blends to try. They also all use 20mg nic salt for a smoother throat hit and faster craving satisfaction. The Blueberry e-liquid is a simple option that's recommended for fruit lovers. The sweet notes of blueberry come through straight away with a juicy taste following on exhale.
Alternate Choices