Blaze E-Liquid by Pukka Juice 50/50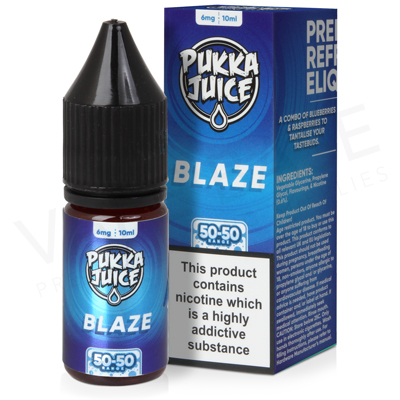 eLiquid Bottle Size:

10ml

eLiquid Brand:

Pukka Juice

Eliquid Flavour Group:

Berry Fruit , Menthol & Mint

eLiquid Mix:

50% VG

Eliquid Nicotine Strength:

3mg , 6mg , 12mg

Eliquid Nicotine Type:

Freebase Nicotine

Product Type:

TPD Eliquid
Blaze e-liquid by Pukka Juice features a fruit combination that delivers a sweet taste with a cool note. Notes of blueberry and raspberry make up the body of this blend, softened on exhale by menthol.
Featuring a 50% VG concentration, this Pukka Juice 10ml e-liquid will produce a discrete amount of vapour. We recommend pairing it with a mouth to lung kit such as a pod kit.
Available in either a 3mg, 6mg or 12mg nicotine strength, it is now easier than ever for your customers to match their flavour and nicotine preferences.
Alternate Choices