Vaporesso VM Solo 22 Kit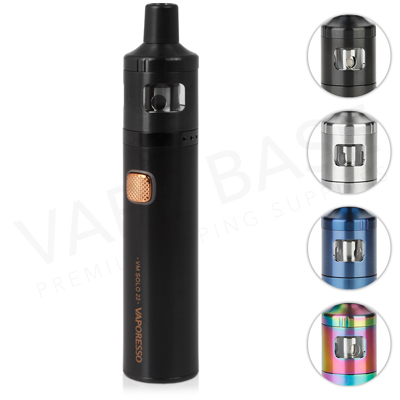 Hardware Brand:

Vaporesso

Hardware Product Type:

Vaping Kit

Product Type:

Open Hardware

Vape Kit Battery Type:

Built In Battery

Vape Kit Eliquid Type:

50VG / 50PG (Universal) , High PG (Mouth-To-Lung) , High VG (Sub-Ohm)

Vape Kit Features:

Adjustable Airflow , Button Activated , Glass Tank , High Battery Capacity

Vape Kit Type:

All In One Kits (AIO) , Mouth to Lung kit , Pen Style , Sub Ohm Vape Kits

Vape Kit User Type:

Beginner Vaper , Intermediate Vaper
The Vaporesso VM Solo 22 kit is a simple AIO (All In One) vape kit that has been created for users of all experience levels. A simple and sleek design makes set-up and maintenance less of a chore. Powered by a large capacity 2200mAh built-in battery, it offers a 22W max output.
Single-button operation avoids the need for users to navigate confusing menu systems, or to remember tricky button combinations. By using the Omni Board chipset, not only does the Solo 22 recognise which coil is installed and picks a compatible wattage, but it also allows for quick recharging - with a full charge possible in 90 minutes.
Designed for mouth to lung vaping, this kit produces a discreet amount of vapour. There are still two coil options available, so users will have the option to pick one that best suits their own unique style. When it comes to pairing this kit with e-liquid, we recommend one that's 50% PG or higher.
Alternate Choices