Vaporesso Luxe PM40 Pod Kit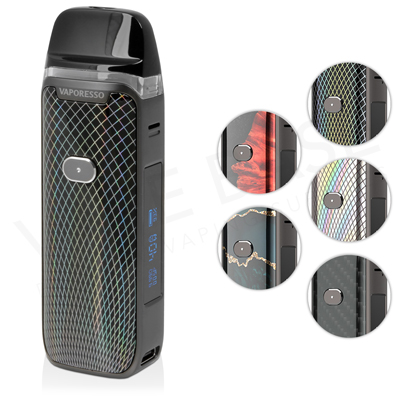 Hardware Brand:

Vaporesso

Hardware Product Type:

Open Pod Kit

Product Type:

Open Hardware

Vape Kit Battery Type:

Built In Battery

Vape Kit Eliquid Type:

High VG (Sub-Ohm)

Vape Kit Features:

Inhale Activated

Vape Kit Type:

POD Style

Vape Kit User Type:

Beginner Vaper , First Time Switcher , Intermediate Vaper
The Vaporesso Luxe PM40 kit is an intelligent pod that you can easily recommend to most customers regardless of their experience level. Thanks to the wide range of compatible coils and variable 40W output, it can be used for both MTL and DTL vaping. Featuring a 1800mAh built-in battery, it harnesses the advanced technology of the AXON 2.0 chipset for a responsive and safer vape.
This kit gets its name from the unique airflow system it pioneers, the slide style allows vapers to exactly alter airflow to deliver their ideal combination of inhale and vapour production. The AXON 2.0 chipset ensures a fast ramp-up for a more consistent vape, while at the same time offering protection against issues including short circuits, overcharging and overheating.
Each Luxe PM40 pod will hold up to 2ml of e-liquid and are compatible with the Vaporesso GTX V.2 coil series. Both a 0.6 Ohm and 0.8 Ohm GTX coil are included, which are ideal for DTL vaping at a range of wattages. When using these coils we recommend a 60% VG or 70% VG e-liquid. The 1.2 Ohm GTX coil available separately will produce a smaller amount of vapour for MTL vaping.
Alternate Choices