Vanilla Toffee Nic Salt E-Liquid by Just Juice Tobacco Club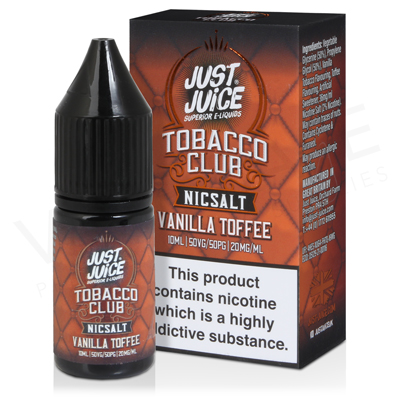 Bottle Size:

10ml

Brand:

Just Juice

Flavour Group:

Candy & Sugar , Spices, Nuts & Herbs , Tobacco

Mix:

50% VG

Nicotine Strength:

5mg , 11mg , 20mg

Nicotine Type:

Salt Nicotine

Type:

PG/VG Base

Product Type:

TPD Eliquid
Vanilla Toffee nic salt e-liquid by Just Juice Tobacco Club is a mellow blend with a dark, woody note. Bold tobacco features throughout, while rich toffee and light vanilla develop on exhale.
It comes in 5mg, 11mg and 20mg nicotine strengths, which means your customers are able to pick what best suits them. Plus, the salt nicotine blend means that they'll experience a smoother throat hit and quicker craving satisfaction.
With a 50/50 VG/PG concentration, this e-liquid is made for MTL (Mouth To Lung) vaping and creates a discreet amount of vapour with a feel that's similar to a cigarette.
Alternate Choices