Uwell Caliburn Pod Vape Kit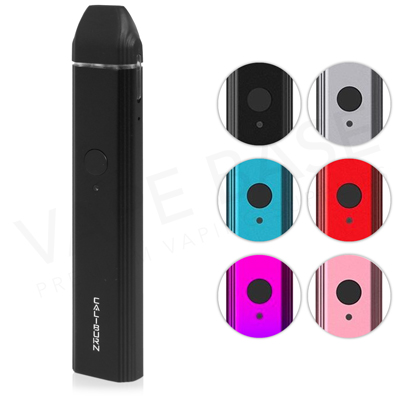 Hardware Brand:

Uwell

Hardware Product Type:

Open Pod Kit

Product Type:

Open Hardware
The Uwell Caliburn is a lightweight pod vape kit powered by a 520mAh built-in battery. Simple to operate with two firing modes, it uses 2ml proprietary refillable pods.
The Caliburn offers a hardwearing construction with a battery which offers up to a full day's vaping between charges, with an inbuilt LED acting as a battery life indicator.
For increased safety, the device features a dedicated locking switch that can also be used as a firing button. When unlocked, this device also features inhale activation, by inhaling on the mouthpiece. A fixed wattage output provides a consistent vape.
The 2ml Caliburn pods can be refilled multiple times before needing to be changed. Each pod is fitted with a 1.4 Ohm coil which offers discreet cloud production
For best results, we recommend using a high PG eliquid, that's 50% PG or higher. These coils are also compatible salt nicotine eliquids.
Alternate Choices