Uwell Caliburn Koko Prime Pod Kit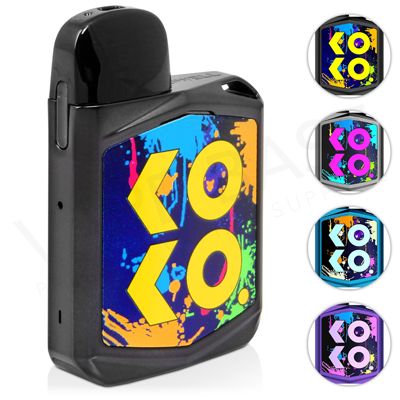 Hardware Brand:

Uwell

Hardware Product Type:

Open Pod Kit

Product Type:

Open Hardware

Vape Kit Battery Type:

Built In Battery

Vape Kit Eliquid Type:

50VG / 50PG (Universal) , Refillable Pods

Vape Kit Features:

Inhale Activated

Vape Kit Type:

POD Style

Vape Kit User Type:

Beginner Vaper , First Time Switcher , Intermediate Vaper
The Uwell Caliburn Koko Prime is a redesign of the classic Koko, featuring a compact build and 690mAh built-in battery. The two combined create a pocket-sized kit with all-day vaping capabilities. Designed to support MTL (Mouth To Lung) vaping, the Prime is capable of a 15W max output and produces a discreet amount of vapour. The supported vaping style and the overall simplicity of this kit make it a good recommendation for newer vapers.
Compatible with the Caliburn G pods and coils, users will have more choice when it comes to vapour production for a kit that better suits their needs. The pods themselves will hold up to 2ml of e-liquid, simple to refill they have a secure seal system that prevents leaking. When rotated and re-inserted the pods can deliver either a tighter or looser inhale for an extra element of customisation.
When it comes to e-liquid we recommend a high PG or 50/50 blend to support MTL vaping.
Alternate Choices