Smok Nord AIO Vape Kit 19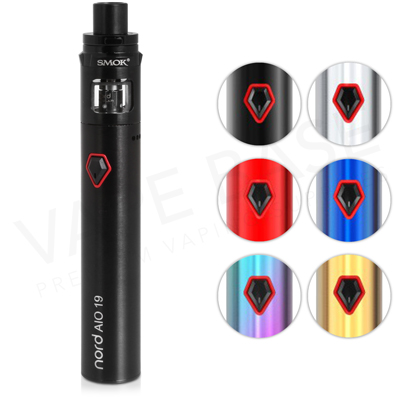 Hardware Brand:

Smok

Hardware Product Type:

Vaping Kit

Product Type:

Open Hardware

Vape Kit Battery Type:

Built In Battery

Vape Kit Eliquid Type:

50VG / 50PG (Universal) , High PG (Mouth-To-Lung)

Vape Kit Features:

Adjustable Airflow , Button Activated , Fixed Wattage , High Battery Capacity

Vape Kit Type:

All In One Kits (AIO) , Compact Portable Kits , Mouth to Lung kit , Sub Ohm Vape Kits

Vape Kit User Type:

Beginner Vaper , Intermediate Vaper

RRP

£25.99
The Smok Nord AIO 19 is a simple mouth to lung kit that can be used by vapers of all experience levels. Powered by a large capacity 1300mAh built-in battery that's rechargeable via USB, users can expect up to a full day's vaping between charging.
Designed in the classic all in one style, this kit features a 2ml capacity. The single button operation and fixed wattage output means that maintenance and set up are greatly reduced. The fixed airflow allows for a consistent mouth to lung vape for discreet cloud production.
This kit uses Nord coils, that are available in 0.8 Ohm and 1.4 Ohm resistances. The 0.8 ohm uses a mesh coil build for increased cloud and improved taste from eliquid. The 1.4 ohm coil uses standard wire for stealth vaping, with less cloud.
This kit should be paired with high PG eliquids that are 50% PG or higher, you can also use salt nicotine eliquids with this kit.
Alternate Choices