Smok Priv N19 Vape Kit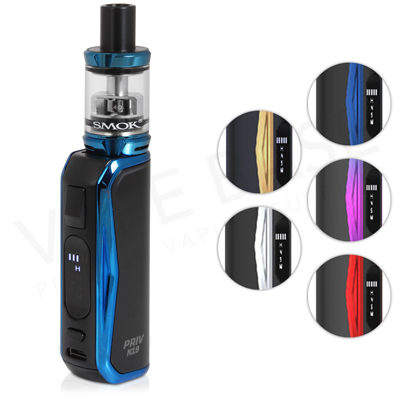 Hardware Brand:

Smok

Hardware Product Type:

Vaping Kit

Product Type:

Open Hardware

Vape Kit Battery Type:

Built In Battery

Vape Kit Eliquid Type:

50VG / 50PG (Universal) , High PG (Mouth-To-Lung) , High VG (Sub-Ohm)

Vape Kit Type:

Box Mod Kits , Mouth to Lung kit , Sub Ohm Vape Kits

Vape Kit User Type:

Beginner Vaper , Intermediate Vaper

RRP

£33.99
The Smok Priv N19 vape kit is simple to use and recommended for users of all experience levels. Powered by a large capacity 1200mAh battery, this kit is designed for mouth to lung and direct to lung vaping - making it very versatile. The kit comes with the 2ml Nord 19 tank, that uses mesh coils.
A simple button layout makes the Priv N19 very easy to set up. The top button is used to activate and lock the device when it's not in use. The bottom button is used to select one of four power output levels - Soft, Normal, Medium and Hard. the higher levels will create more cloud and flavour. The large capacity 1200mAh battery will provide up to a full day of vaping.
The Nord 19 vape tank is easy to fill and will hold up to 2ml of eliquid. The top filling cap feature means that users won't have to remove the tank from the mod to refill it - making it an ideal set up to use on the go. The adjustable airflow can be used to increased or decrease vapour flow - for a tighter or looser inhale.
Each kit comes with two Smok Nord vape coils, both coils register a 1.4 Ohm resistance and have been expressly designed for mouth to lung vaping. Accepting up to 12W of power, they produce a small amount of vapour. If your customers are looking to experience direct to lung vaping, this kit can also be used with entire sub ohm range of Smok Nord coils.
Alternate Choices