Smok Novo X Kit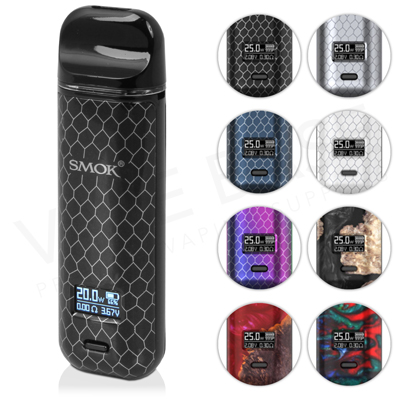 Hardware Brand:

Smok

Hardware Product Type:

Open Pod Kit

Product Type:

Open Hardware

Vape Kit Battery Type:

Built In Battery

Vape Kit Eliquid Type:

50VG / 50PG (Universal) , High PG (Mouth-To-Lung)

Vape Kit Features:

Variable Voltage

Vape Kit Type:

Compact Portable Kits , POD Style

Vape Kit User Type:

Advanced Vaper , Beginner Vaper , First Time Switcher , Intermediate Vaper
The Smok Novo X pod kit is the ideal recommendation for your newer customers, as well as the more experienced vaper looking for a simple everyday kit. Despite it's small size it features a larger 800mAh battery, offering up to a full day of vaping when fully charged. This battery supports the kit's 25W max output, which delivers a level of vapour production suited to a mouth to lung vaping style.
The intelligent chipset gives users the opportunity to quickly switch wattage to deliver their ideal level of vapour production. It is also pre-programmed with a range of protections for a safer vape. By remaining both a reliable and customisable kit, The Smok Novo X ensures both beginners and experienced vapers will feel comfortable using it.
Featuring a twin coil build, the Smok Novo X pods will hold up to 2ml of e-liquid. Not only does this twin build deliver a faster ramp-up, it will also last longer than a standard build for multiple refills. Though this is a 0.8 Ohm coil it will work best with high PG e-liquids, compatible with both freebase nicotine and salt nicotine blends alike.
Alternate Choices