Smok IPX80 Kit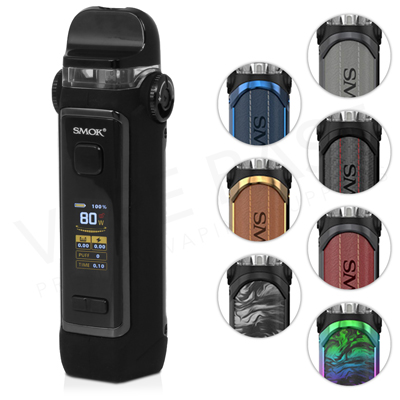 Hardware Brand:

Smok

Hardware Product Type:

Open Pod Kit

Product Type:

Open Hardware

Vape Kit Battery Type:

Built In Battery

Vape Kit Eliquid Type:

High PG (Mouth-To-Lung) , High VG (Sub-Ohm) , Refillable Pods

Vape Kit Features:

Dust Resistant , Shockproof , Variable Wattage , Water Resistant

Vape Kit Type:

POD Style

Vape Kit User Type:

Advanced Vaper , Beginner Vaper , First Time Switcher , Intermediate Vaper
The Smok IPX80 pod kit is a tough and compact kit that supports MTL and DTL vaping. Capable of an 80W max output and powered by a built-in 3000mAh battery, this kit offers up to a full day of vaping when charged. The wattage is fully adjustable and because the kit can be used with both RPM and RPM 2 coils, your customers will be able to find a combination that suits their particular vaping style.
To help get them started, each kit includes not only a refillable IPX80 RPM 2 pod, it also includes a 0.16 Ohm mesh coil and 0.6 Ohm MTL coil. The pods themselves are very easy to refill thanks to the classic seal system which also reduces the chance of leaks. When it comes to recommending an e-liquid, this kit will support both high VG and high PG varieties depending on which coil is installed.
Offering both a solid introduction to sub ohm vaping, or acting as an MTL kit with a long battery life, the IPX80 is a good recommendation to customers regardless of their experience level.
Alternate Choices