Menthol Tobacco E-Liquid by Club Juice 50/50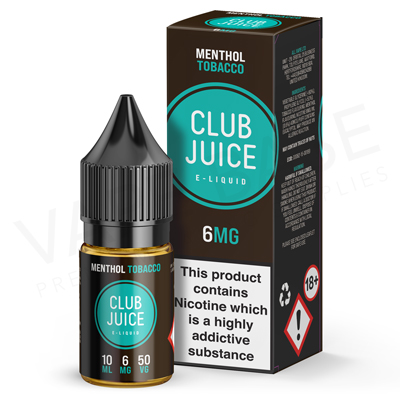 Bottle Size:

10ml

Brand:

Club Juice

Flavour Group:

Menthol & Mint , Tobacco

Mix:

50% VG

Nicotine Strength:

0mg , 3mg , 6mg , 12mg , 18mg

Nicotine Type:

Freebase Nicotine , Nicotine Free (0mg)

Product Type:

TPD Eliquid
Menthol Tobacco e-liquid by club Juice is a tobacco blend with icy notes. An earthy tobacco and chilled menthol combine for a balanced vape.
This e-liquid is available in 10ml bottles with nicotine strengths of 0mg, 3mg, 6mg, 12mg and 18mg and features a 50% VG ratio suited for use with pod devices and starter kits.
Please Note: Club Juice has been rebranded, some bottles you receive in your delivery may have new packaging. Rest assured all e-liquids are still made to the same high-quality standards.
Alternate Choices