Mango Frumist Disposable Device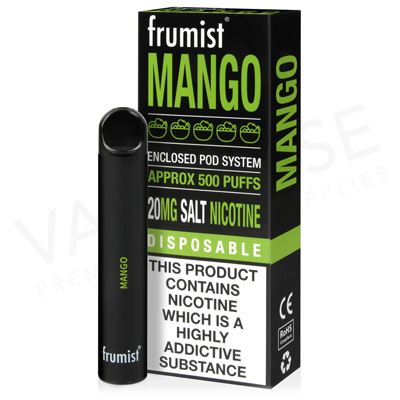 eLiquid Brand:

Frumist

Eliquid Flavour Group:

Other Fruit

eLiquid Mix:

50% VG

Eliquid Nicotine Strength:

20mg

Eliquid Nicotine Type:

Salt Nicotine

Vape Pods Type:

Disposable Pods

RRP

£5.99
The Mango Frumist Disposable Device offers both a good introduction to vaping or a more portable option for everyday use. Each device arrives filled with enough e-liquid to provide up to 500 puffs, so each device will easily outlast 20 cigarettes. Featuring inhale activation and a pocket-friendly build, it offers a simpler approach all-round.
Filled with 20mg salt nicotine e-liquid, this device creates a smoother throat hit while at the same time satisfying cravings quickly. The Mango flavour delivers a taste of the tropics. The sweet notes of the fruit hit you from your first vape, complemented by a juicy twang. A wide range of other flavours are available to suit a range of tastes.
Once empty, the device does not to be refilled and the battery never needs to be recharged. Instead, it can be replaced with another device altogether. Thanks to the slim design of the Frumist disposable, it's easy to carry more than one with you - so you'll never be caught short.
Alternate Choices