Lime Lemonade Shortfill E-Liquid by Pukka Juice 50ml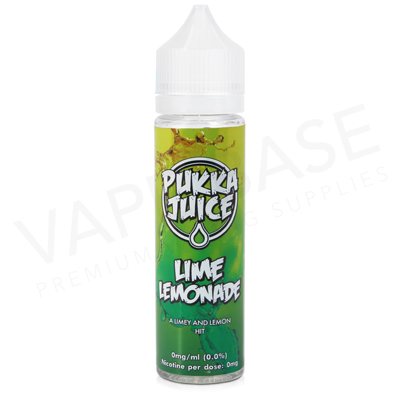 eLiquid Bottle Size:

50ml

eLiquid Brand:

Pukka Juice

Eliquid Flavour Group:

Menthol & Mint , Other Fruit

eLiquid Mix:

70% VG

Eliquid Nicotine Strength:

0mg

Eliquid Nicotine Type:

Nicotine Free (0mg)

Product Type:

Shortfills

RRP

£12.95
Lime Lemonade shortfill e-liquid by Pukka Juice is a tangy fruit blend with a summery vibe. The sweet and sharp combination of fizzy lemon and lime comes through on inhale, cooled by a layer of menthol to finish.
Part of the Pukka Juice shortfill e-liquid range, this is a 70% VG e-liquid that will create a larger amount of vapour. We recommend pairing it with a sub ohm vape kit.
Each 50ml shortfill has room for a 10ml nicotine booster shot. This gives the vaper full control over exactly how much nicotine is in their e-liquid.
Alternate Choices