Fat Boy E-Liquid by Nasty Juice 50ml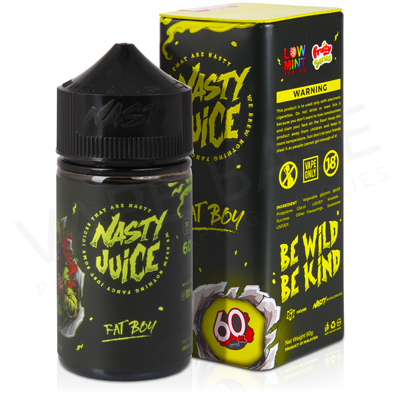 eLiquid Bottle Size:

50ml

eLiquid Brand:

Nasty Juice

Eliquid Flavour Group:

Berry Fruit , Menthol & Mint , Other Fruit

eLiquid Mix:

70% VG

Eliquid Nicotine Strength:

0mg

Eliquid Nicotine Type:

Nicotine Free (0mg)

Product Type:

Shortfills

RRP

£14.99
Fat Boy shortfill e-liquid by Nasty Juice is sweet and sharp with a cool aftertaste. A fusion of citrus and mango comes through on inhale, complemented by the low mint flavour to finish.
Featuring a 70% VG concentration, this e-liquid is a good recommendation for sub ohm vapers. As you'd expect from Nasty Juice it delivers quality flavour and increased vapour production.
Available as a 50ml shortfill, each underfilled bottle has room for a 10ml nicotine booster shot. A shortfill like this gives your customers more options when it comes to nicotine strength and nicotine type.
Alternate Choices