Blackcurrant Menthol E-Liquid by Pukka Juice 50/50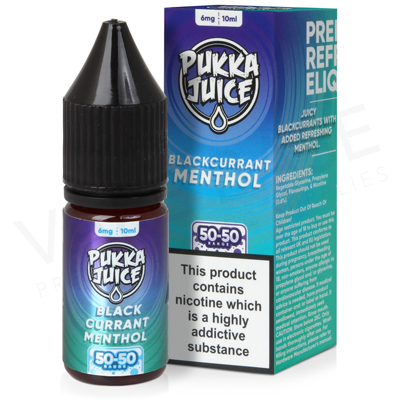 eLiquid Bottle Size:

10ml

eLiquid Brand:

Pukka Juice

Eliquid Flavour Group:

Menthol & Mint , Other Fruit

eLiquid Mix:

50% VG

Eliquid Nicotine Strength:

3mg , 6mg , 12mg

Eliquid Nicotine Type:

Freebase Nicotine

Product Type:

TPD Eliquid
Blackcurrant Menthol e-liquid by Pukka Juice combines notes of forest fruits with menthol. From the first vape, the distinct flavour of blackcurrant is present. The fruit pairs well with the icy notes for a smooth finish.
Featuring a 50% VG concentration, this Pukka Juice 10ml e-liquid will produce a discrete amount of vapour. We recommend pairing it with a mouth to lung kit such as a pod kit.
Available in either a 3mg, 6mg or 12mg nicotine strength, it is now easier than ever for your customers to match their flavour and nicotine preferences.
Alternate Choices