Banana Ice Vaporesso Puffmi TX500 Disposable Vape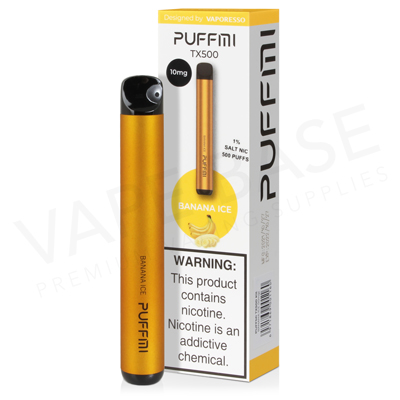 Flavour Group:

Menthol & Mint , Tropical Fruit

Mix:

50% VG

Nicotine Strength:

10mg , 20mg

Nicotine Type:

Salt Nicotine

Hardware Brand:

Vaporesso

Product Type:

Pods (Closed)

Vape Pods Type:

Disposable Pods
The PuffMi TX500 disposable vape comes in a range of different flavours, so your customers can try a few and discover their favourite. Thanks to being so easy to use, it's a convenient option for new vapers or those that want something simple. With 2ml of e-liquid inside, each one will outlast 20 cigarettes and deliver up to 500 puffs before it's empty.
With inhale activation, the TX500 can be used right out of the box without having to set anything up. Simply inhaling on the mouthpiece is all that's needed to vape with this device - no buttons or menu systems required. It uses nic salt e-liquid, which delivers a smooth throat hit and absorbs faster for quick craving satisfaction.
Banana Ice creates a frosty vape with an exotic twist. Rich banana is complemented on exhale by cool menthol.
Alternate Choices